I rediscovered the Thursday Thirteen, or at least a restart of it that some dedicated Thursday Thirteener's have created in the absence of the original.
My Thursday Thirteen is Thirteen holiday traditions that I love, just to help me get into the spirit of the holidays a bit, since I'm not too merry at the moment.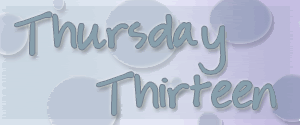 1. Making rosette cookies. Deep fried batter cookies that are dusted with powdered sugar and far more tasty than they should be.
2. Decorating the house for the holidays. I love getting into the boxes, some of which I leave packed for a few years just to make it a bit more fun to open all the 'new' decorations and arrange them around the house.
3. Listening to holiday music as I work
4. Dinner, next to Thanksgiving, Christmas dinner is one of the best. It is small compared to Thanksgiving, of course, but there is still tasty stuff to eat and lots of desserts.
5. Presents on Christmas Eve. Throughout my life I can never remember having to wait for Christmas morning before I got at least some, if not all, of my presents. In later years it actually got to be standard to open all gifts on Christmas Eve.
6. Shopping for myself. Don't laugh, for many many years I have done most of the shopping for the holidays, including being in charge of getting my own gifts half the time. And the ones I did not get, I generally ended up wrapping. It is a 'tradition' that lead to much frustration a few times, but I have found it to be one of the best holiday traditions my mom ever started up, because now that it is just me and dad for the most part, I can shop for both me and him for the holidays and it does not distract any at all from the presents aspect of the holiday.
7. Candy canes! I love candy canes, but only ever let myself enjoy them at this time of the year. Besides, they just taste better in December than at any other time of the year.
8. Making fancy packaging for presents. I've moved from being creatively decorative with paper wrapping to over the past few years wrapping more and more gifts in fabric printed in holiday patterns.
9. Lights on the tree. It is not Christmas without colored lights glistening off colorful glass spheres.
10. Snow. I loathe snow, but it is not quite Christmas without a dusting of pure white snow. Christmas is about the only time of the winter when I actually let myself forget the cold and simply enjoy the beauty of the snow.
11. A new Santa. I have a collection of Santa figures that dates back to 2001 when my mom and I bought a few at Christmas time when my dad was in the hospital after his stroke. Each year since I have tried to add one Santa to the collection. Last year it was a lady in red gown with pine bough angel wings, this year I plan to make a Santa myself to add to the collection.
12. Stockings hung by the tree. We did not have a fireplace so often that the stockings are usually hung from a windowsill by the tree, or off the cabinet the TV is in. This year I have a mantle by the fireplace, so am looking forward to stockings hung by the chimney with care.
13. Winter Solstice. Hey, when it gets to be -30 F to as cold as -60 F you look forward to the longest night of the year and the slow return toward warmth. The growing dark is ended now and spring is on its way, oh, tidings of comfort and joy!
And there you have it, 13 things I like about the holidays.
Get the Thursday Thirteen code here!
The purpose of the meme is to get to know everyone who participates a little bit better every Thursday. Visiting fellow Thirteeners is encouraged! If you participate, leave the link to your Thirteen in others' comments. It's easy, and fun!
Trackbacks, pings, comment links accepted!