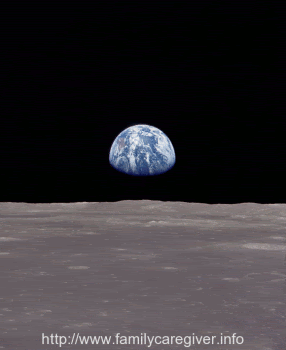 I made this picture for my Family Caregiver blog a few years ago.
Figured I would dust it back off and put it back up today.
Like me, Earth Day hits the big 4-Oh this year. And it has been a long hard road.
I had intended to spend today planting seeds and cleaning up the greenhouse and garden area for getting the garden going, then I got up and looked outside. Snow. It lasted a while, and now it is a muggy melting off out there, even see a bit of sunlight at the window as I write this. Maybe I will get the chance to get out there and work before the end of the day.
I will definitely be planting some seeds today, I have no other choice really, I set them to soak last night, and have to get them into the soil today. I will be planting them in starter containers and keeping them in the small greenhouse inside as they get started and growing. Put them out in the big greenhouse after they have come up above the soil.
Mom always took care of all of the garden stuff. I have tried to help over the years, but I have a lot of trouble with either under watering or over watering things, and my started plants always have too long stems and don't make it past a few weeks after they have come up. I am determined I will stop that this year, though. Me and dad are going to have a good garden just like the one that him and mom had here just after we first bought this place.
I think Earth Day is a perfect day to be starting the garden stuff, since we have such a late start to the springtime here in Alaska. Most of the plants we picked out have roughly two month growing periods, so the garden should be ready for harvesting things from it around the end of June if I can get it started this week.